Anchor
Anchor
Thank You from The California School of Education!
---
Whether you've been teaching for years, just starting your career, or looking to begin a new professional journey as a leader in the education field, today—Teacher Appreciation Day— is when we give thanks to you! We understand that your work can be as challenging as it is rewarding. While this official holiday is once a year, our appreciation never stops for teachers, school counselors and psychologists, and administrators who all contribute to a student's education, growth, and success. 
Read a message from our CSOE Dean, Dr. Kristy Pruitt, EdD, below. And to our CSOE alumni, and current or future CSOE students, our deep and sincere gratitude for the amazing work you've accomplished and the work you  continue to do!
Anchor
A Message from Our Dean
---
Dear Educators,
Thank you for guiding, supporting, and inspiring our diverse future leaders within the K-12 communities you serve. Amid the COVID-19 pandemic, you persevered despite challenges and did so admirably and confidently. You have gone above and beyond in keeping students engaged with remote learning and other creative personal touches to keep learning moving forward. We are proud to celebrate and honor the teachers and aspiring teachers who have persisted, and in the process, have shown us the future of education.
It is our pleasure to support you with ongoing learning opportunities that integrate the latest knowledge, best practices, tools, and technologies. We are investing in more resources to support your education and your career, so that you can impact the lives of our school children. We have developed strong partnerships, including public, charter, NPS, community-based organizations, non-profits, and related agencies, many of which continue to provide excellent internship and employment opportunities for our teacher candidates. We are proud that our programs offer:
Standards-aligned curriculum
Research and evidence-based learning to meet the needs of all learners
Innovative programs that teach the skills needed to make a global impact
Online programs, with small class sizes, and classroom simulations to give you the education and experience you need
Ongoing learning opportunities, including certificates, credentials, and advanced degrees such as an EdD in Educational Leadership and Management
We are dedicated to inspiring curious and lifelong leaders, and you are all part of that mission. Thank you for trusting Alliant to be part of the future you are creating for our children.
On behalf of the entire California School of Education staff and faculty, I offer you my profound encouragement and appreciation as you continue forward on the noble path of education. Thank you for all that you do to impact student success.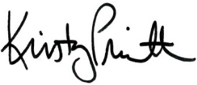 Dr. Kristy Pruitt, EdD 
Dean, California School of Education