Anchor
Anchor
---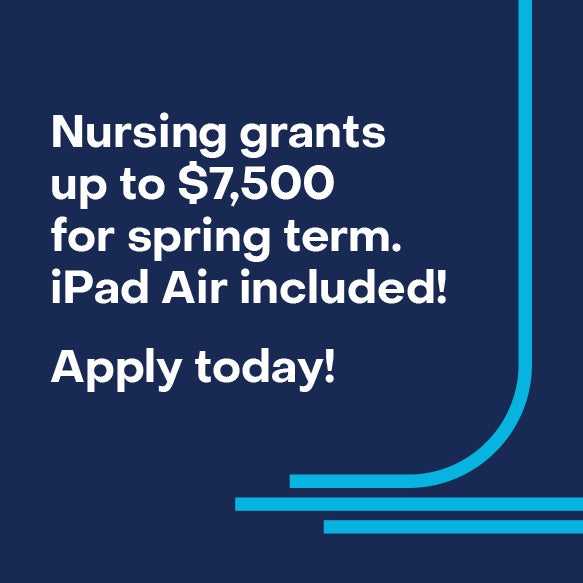 If you're looking for a meaningful way to make a living while helping others, and you like an active job where you meet all sorts of people, nursing can be a rewarding career. With a bachelor of science in nursing (BSN), you'll learn modern nursing skills and get training in techniques that can help you succeed in this vital field whether as a nurse educator, a family nurse practitioner, or any position in the nursing practice.
The BSN program at the School of Nursing and Health Sciences (SNHS) at Alliant International University offers two of the fastest paths in the state of Arizona to earning your BSN degree; one if you have no college credits and another if you have completed your general education requirements:
If you have no previous college credits, your nursing program will take eight trimesters over two years and nine months. 
If you've fulfilled your general education requirements, your nursing program will be taught over six trimesters and will take two years to complete. 
Both paths are taught on campus in Arizona and offer general education and non-clinical courses online. The bachelor of science in nursing in Phoenix, Arizona will provide you with the nurse education and experience needed to prepare you to sit for the NCLEX exam to earn a license as a registered nurse (RN).
---
Complete application
3.0 GPA on HS/or College Transcripts
HESI Scores

Vocabulary: 78%
Reading: 78%
Biology: 72%
Anatomy and Physiology: 72%

Official transcripts
 
---
Hands-On, Real-World Training
The school has launched a state-of-the-art simulation center and lab in Phoenix, Arizona, which allows for hands-on practice through small class sizes, six simulation bays, and eight clinical beds. Small class sizes mean you'll get plenty of time with your teachers, all of whom have experience in the field. 
Innovative Technology
When you enroll in the nurse education program, you'll receive an iPad Air pre-loaded with all the textbooks, test prep, modern nursing apps, and other resources you'll need for your program. This is much like the technology nurses use every day. 
Accreditation and Alignment
Alliant is accredited by the WASC Senior College and University Commission (WSCUC). The program curriculum aligns with the very latest American Association of Colleges of Nursing (AACN) Essentials and focuses on helping you develop vital nursing competencies.
Enhanced Learning
Alliant is committed to delivering quality, student-centered nursing education and learning experiences using instructional methods that allow those with different learning styles to succeed.
State-of-the-Art School
SNHS is a brand-new nursing school and campus in Arizona and is part of Alliant International University. Alliant is an accredited, professional-practice university with a long history of preparing students like you for licensed positions.
---
Get to Know Our Diverse Faculty
---
Nurses are team players, so in the program, you'll have the opportunity to practice with registered nursing practitioners and other healthcare professionals. The BSN degree program takes advantage of the latest technologies in patient care to prepare you for the job. When you begin your program, you'll receive an iPad Air that is pre-loaded with a widely-used nursing app, much like what you will use as a nurse in the field. The tablet is also loaded with all the textbooks and other study materials you'll need to complete the program. 
So that you fully understand the concepts and skills taught throughout your program, rather than extensive memorization, you'll learn to think critically and use clinical reasoning on the job. As a nurse practitioner, you'll also learn to collaborate with professionals in other nursing careers and healthcare providers to ensure the best possible outcomes for your patients.
Key Competencies Acquired through the Program:
Nursing students will learn these top skills during the program: 
Nursing leadership and management
Communication and critical thinking skills
Strategic planning
Caring in the context of public health
Patient care and health administration
Performance improvement and patient management
Student Learning Outcomes
As a graduate of the BSN program, you'll be trained to: 
Apply the clinical decision-making process to provide culturally sensitive, patient-centered care 
Collaborate with patients, families, and other members in the planning, coordination, and provision of safe, competent healthcare
Promote patient and staff safety following the process of quality improvement within complex systems of healthcare
Apply the best evidence and innovative technologies to enhance communication, knowledge development, and clinical judgment
Demonstrate leadership and professionalism when managing care for diverse patients across the lifespan and continuum of care
Integrate professional values, legal requirements, and ethical principles into nursing practice
 
Links and Downloads
Anchor
Frequently Asked Questions
Anchor
Is a BSN the same as an RN?
A BSN is a nursing degree, whereas an RN refers to both a job title and a licensure. Although a BSN degree is essential for nursing, it does not equip one to become a nurse practitioner. Pursuing a BSN after obtaining RN licensure provides more nursing careers and opportunities. RNs are healthcare professionals who offer medical treatment to patients and emotional support to them and their families, with specific nursing jobs that vary depending on their area of expertise. A licensed practical nurse may choose to enroll in BSN programs to enhance their nursing education from an associate degree to a bachelor's degree.
Anchor
When does the degree program start?
The inaugural program begins in the fall of 2023 (September). In 2024 there will be a spring and fall start (January and September). 2025 will have three starts; spring, summer, and fall (January, May, and September).
Anchor
How long does it take to complete the program?
If you have no previous college credits, your program will take eight trimesters over two years and nine months. If you've fulfilled your general education requirements, the program will be taught over six trimesters and will take two years to complete.
Anchor
What is the modality of this program?
General education and non-clinical courses are offered online; clinicals and labs are offered in-person on our Phoenix campus.
Anchor
Where is the program located?
Phoenix, Arizona Campus
Phoenix is an ideal city to call home if you are seeking a remarkable education, opportunities to meet new people, and an abundance of outdoor activities. Furthermore, it is the location of the recently established School of Nursing and Health Sciences at Alliant International University.
Our Phoenix  address is: 
3110 N Central Ave Suite G-125
Phoenix, AZ 85012
Parking is in the garage behind the building, 2nd floor.
Our hours are: 
9AM – 5PM Monday through Friday
Contact our Phoenix campus via phone at: (866) 825-5426
Anchor
What makes Phoenix an ideal destination for studying?
Phoenix, Arizona offers a thriving urban environment with numerous opportunities for outdoor recreational activities, favorable weather conditions, and a rich cultural scene, making it a desirable location for both professional and academic pursuits. With a vast metropolitan area nestled amidst mountains, Phoenix provides ample opportunities for hiking, rock climbing, and mountain biking. 
During the winter season, visitors can indulge in skiing or snowboarding at nearby resorts, while the summer months offer opportunities to enjoy water sports or watch a professional baseball game. Additionally, the city has many parks and golf courses where people can play sports, have picnics, and bask in the sun. Phoenix is also a hub of museums, theaters, and galleries, with plenty of scenic attractions surrounding the city, such as the Grand Canyon, Sedona, and other natural wonders.
 
Anchor
Start on your path to succeed on purpose
Anchor
Anchor
Anchor
Why Alliant
At Alliant, our mission is to prepare students for professional careers of service and leadership and to promote the discovery and application of knowledge to improve lives. We offer an education that is accredited, focused on practical knowledge and skills, connected with diverse faculty and alumni, and aimed at the student experience.
Anchor
Why SNHS
The School of Nursing and Health Sciences (SNHS) helps prepare students to  enter the field of healthcare with a state-of-the-art simulation center and lab, small class sizes, textbooks and other resources on an electronic tablet, and an AACN-aligned curriculum.
Anchor
Start on your path to impact today